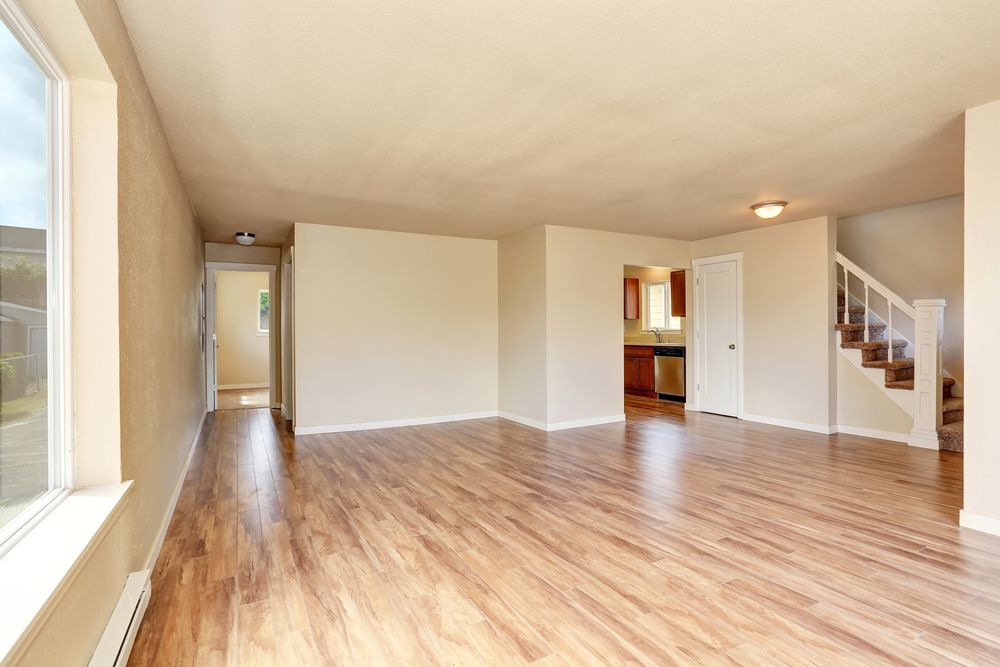 Do you have a specific type of wood floor sanding in RG25 Hampshire to enquire about? Have you read our Testimonials to see what past projects we have completed, and how happy we made our customers? We can tackle almost any damaged wooden floor, or even just routine cosmetic maintenance, but here are some of the main categories into which our work falls.
COMMERCIAL FLOOR SANDING
Commercial floor sanding keeps retail and office premises looking sharp, to make the best possible impression on your customers, and keep your staff feeling motivated by giving them an attractive place to work. We take great pride in our own work, and repairing commercial floors allows us to pass that pride on to a secondary workforce too.
Floor sanding in Hampshire RG21 is one of those regular forms of maintenance that is needed in all kinds of properties across the Hants region. The very core of what we do, we have spent two decades becoming the best, and plan to hang on to our market-leading position for many years to come.
PARQUET FLOOR REPAIR
Parquet floor repair again finds its main demand in commercial premises, as well as in schools, although this decorative flooring is perhaps seen slightly less regularly on shop floors. Wherever your parquet is laid, we can repair the damage and defacement caused by years of dirty feet treading on it, with special services for floors where the most common routes across the surface have suffered deeper damage than the area as a whole.
PARQUET FLOOR RESTORATION
Parquet floor restoration is one option that can be particularly useful for floors with small localised areas of deep damage; we can sand individual parquet tiles to a different degree, without the floor as a whole becoming uneven, or we can apply one of several repair techniques, from injecting silicon or resin into damaged areas, to inserting slivers of timber to infill cracks.
PARQUET FLOOR SANDING
Parquet floor sanding is a quick and easy restorative process for parquet floors with light, cosmetic surface damage, and our high-tech equipment just makes it even easier for us to bring your floor back to its best. Remove old layers of lacquer and besmirched layers of timber, to expose fresh wood that lets each tile be treated to a consistent colour finish, and to protect the floor as a whole for the years still to come.
SCHOOL FLOOR SANDING
Don't let down the future generation by giving them a less-than-perfect learning environment. School floor sanding is a relatively low-cost way to tackle discolouration and even deep scratching and gouging of classroom floors, corridors and halls; like our other services, we come and sand away the damaged layers of wood, and then treat the fresh timber to protect it against sustaining further damage in the new academic year.
WOOD FLOOR FINISHING
Typically sold alongside our sanding services, we try to offer the full range of wood floor finishing Hampshire SO23 properties require. Our recommended treatments are chosen for their eco-friendliness as well as their aesthetic and protective properties, hopefully delivering peace of mind for customers with sustainability concerns, and particularly for those having their floors repaired, rather than replaced, as a means of meeting their commitment to resource efficiency.
WOOD FLOOR MAINTENANCE
Wood floor maintenance is a lower-impact process for floors where extensive damage has not occurred, but cosmetic attention is desired. Perhaps you are redecorating your home, preparing a property to be sold, or rebranding your retail premises and want a dark and elegant, or light and fresh look that is a departure from what you already have on your timber floors. Or there may be light, regular damage such as surface scuffs and scratches, which can be polished away fairly simply; either way, we can help.
WOOD FLOOR POLISHING
For very light scuffs and smudges, a low-level wood floor polishing service should suffice. We bring our high-tech equipment and decades of experience to the process just the same as we would with any other, but the whole job is likely to be faster, and leave you with the same high standard of finish.
WOOD FLOOR REPAIR
Wood floor repair is our emergency service for timber that has seen specific forms of damage, and particularly if these are having an adverse visual impact on the aesthetic appeal of your floor. We can repair a wide range of timber surface damage, or replace individual boards as required.
WOOD FLOOR RESTORATION
Wood floor restoration is a sensitive service for older floors, where you might not want to replace the timber in order to protect the heritage of the building, the history of the rooms in which the work is to be carried out, or the value of having period features in the premises.
FINISHES AND SEALS
Finishes and seals again protect the floor, while giving it the look that you like best. Perfect as part of a broader refurbishment process, they can completely change the general feeling of an interior space, making it bright and airy, dark and elegant, or anywhere between the two extremes.
GAP FILLING: RESIN , SLIVERS & SILICON
We know that even careful sanding is not going to bring all wooden floors in Hants back to as-new condition, and we can offer the services required in cases when sanding and staining alone are not enough. Resin and silicon help to reseal cracked and lightly damaged boards, while slivers of fresh timber can be inserted into larger gaps, not only to reinstate the consistent surface of the floor, but to bind it together and prevent further damage.